Thousands of twinkling lights lit up the Main Plaza of downtown New Braunfels on Friday for the upcoming holidays, although the traditional ceremony and countdown took place virtually.
Considering COVID-19 precautions, city officials had announced that the annual downtown Christmas season lighting event would take place virtually. 
Residents viewed brief addresses from local officials in a series of prerecorded messages and greetings, followed by the traditional countdown leading up to the flipping of the switch and the Main Plaza lights turning on.
"Even though we can't be together with all of you in person in our beautiful downtown to watch the exciting moment of the lights being flipped on, we wanted to make sure to keep this wonderful tradition alive," Mayor Rusty Brockman said. "With many things in 2020, we decided to take it virtual. It certainly takes a lot of bells to make this holiday magic happen."
Brockman said New Braunfels Utilities, the city's Parks and Recreation Department and Comal County have worked over the last month to ensure "that our downtown sparkles with the Christmas spirit."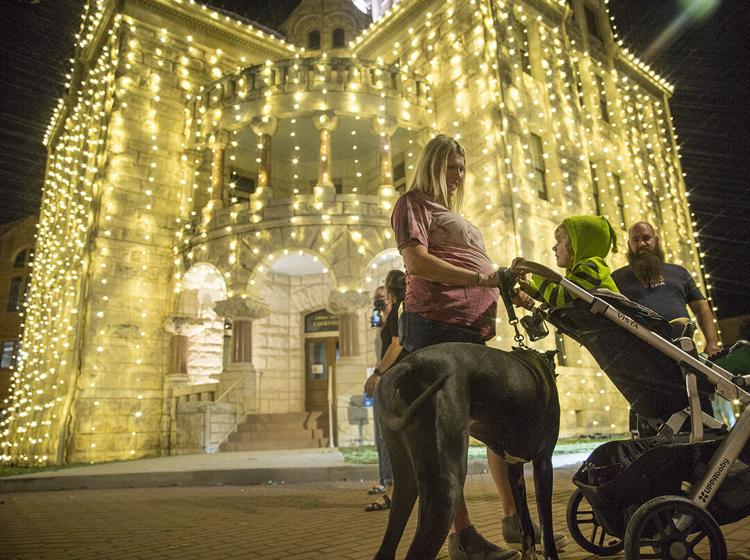 It's hard to believe that the holiday season is right around the corner, said Comal County Judge Sherman Krause in his greeting. "We are celebrating the tree lighting in downtown New Braunfels, and so I wanted to take this opportunity to say from our Comal County families to yours, we hope you have a happy Thanksgiving, a Merry Christmas and a happy 2021."
Ian Taylor, chief executive officer of New Braunfels Utilities, said the company "is grateful to have a part in helping our community celebrate this special time of year by dressing up the plaza in lights and decorations." 
"For those of us at NBU, we find special meaning in providing essential services for our friends, our families and for all of our neighbors in this great community," Taylor said. "This season, I hope each of you finds moments of joy and peace and warm fellowship with the ones you love."
The Canyon High School Steel Drum Band performed Christmas favorites with a flavor of the islands during the ceremony.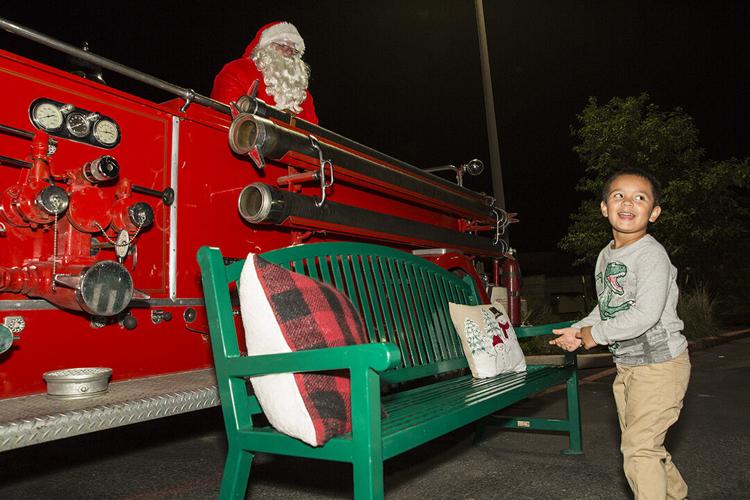 Short messages of greeting also came from New Braunfels City Council members James Blakey, Justin Meadows, Matthew Hoyt, Harry Bowers, Shane Hines, Jason Hurta, with some introducing their family members.
The virtual tree lighting event is available for viewing on the city's Facebook page and on its website.
Despite the cancellation of an in-person ceremony, residents still came to the Main Plaza to see the traditional lighting display.
"We took the little ones to see the tree lighting tonight," Nina Willard said. "We're loving the traditions of our town, and they're finally at the age where they kind of really understand and get excited about the holidays, so it was fun to see them watch the tree light up."
Nicole Speck said she had no idea the ceremony was virtual but still enjoyed seeing the lights turn on. 
"It's been crowded in years past, so I decided to go tonight," Speck said. "I've lived here my whole life, and this is my first time and [the kids'] first time. It still feels like Christmas spirit, even in the midst of COVID."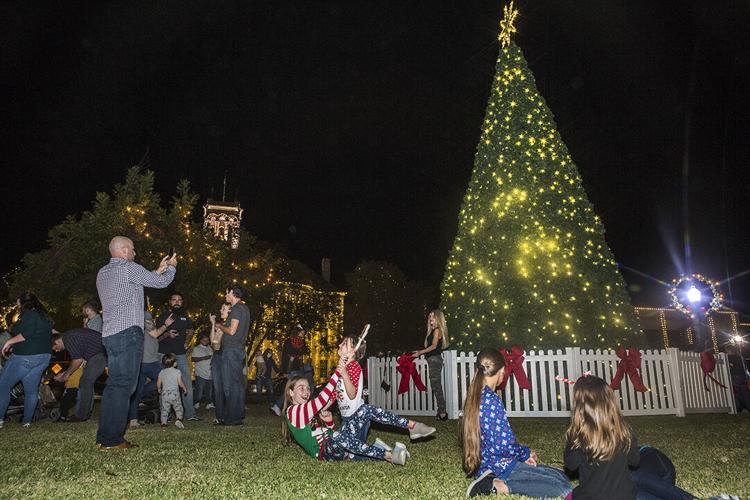 After coordinating with the local elf community, the city of New Braunfels provided families with an opportunity to take socially-distanced pictures with Santa Claus, who was sitting atop a vintage New Braunfels fire truck at City Hall.
Good little boys and girls were also welcome to write letters to Santa at home and drop them off in Santa's mailbox at City Hall.