After taking a nap, all Eddy Luna wanted was to scarf down comfort food from Mom.
"I'm feeling as good as I can I guess after everything that's been going on," he said. "I'm good enough to be home and I'm happy for that."
Luna received a hero's welcome Tuesday, as flag-waving citizens honked horns as family members drove the Comal County Sheriff's Office veteran home from San Antonio's University Hospital. 
Luna underwent 12 surgeries in 25 days recovering there after nearly losing his life in the line of duty. His right arm was amputated 4.5 inches below the elbow two weeks after he was hit by a shotgun blast while serving an arrest warrant in Spring Branch.
"My body was good before the surgeries but then you find out how much they take a toll," he said. "The doctors did their part — they got me to the point where I could come home. After 25-26 days in the hospital it worked out pretty well, and coming home is a small victory."
CCSO Chief Deputy Jimmy Jones said Luna's assessment was modest.
"There's a lot emotion that comes with it," he said. "Eddy is a great friend to 
everyone — he and I have been since I was a (Department of Public Safety) trooper in Comal County years ago.
"We're just really glad that he's home and OK and he's safe."
Lining the streets
Residents sat outside cars and trucks that lined the Solms Road exit off Interstate 35 around noon as they cheered Luna as a van with family members proceeded to his residence off Morningside Drive. 
Former CCSO Deputy Gene Hendon was among them.
"Eddy is a great guy — every time I've seen him he had a smile on his face and a great attitude," said Hendon, who retired three years ago after spending part of his 18 years with CCSO with Luna in the warrants division.
"I guarantee Eddy will have all of the support he needs from everyone he's been associated with and a lot of good friends there over the years," Hendon said.  
A few of the dozens of CCSO, New Braunfels police and EMS units followed Luna's van to make sure he got settled at home.
"We were we were looking forward to having him home, giving him space and see him resting in his own bed," Sheriff Mark Reynolds said. "He still has some work cut out for him but he's taking it quite well.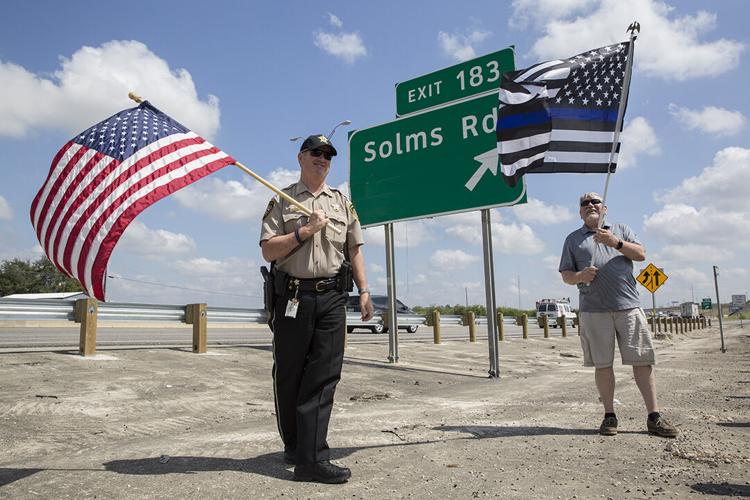 "We're with him, side-by-side, all of the way. We just wanted to honor him today. All of us, along with the rest of the community, wanted to be out there showing our support."
Distasteful signs of the times
On Aug. 20 Luna and other officers were serving a felony arrest warrant for Brian Scott Sharp at a home in the 1400 block of Springwood in Spring Branch. Dib Waldrip, 207th District Court judge, issued the warrant for Sharp, who failed to show for trial for a 2018 evading charge. 
CCSO says Sharp, 59, fired as Luna approached his doorstep. He was arrested on two counts of aggravated assault on a public servant and other warrants associated with the previous case, but later denied bond and will remain in Comal County Jail until trial.
The local case was among other attacks on or involving law enforcement throughout the country this summer. 
On Monday Los Angeles County Sheriff Alex Villanueva blamed elected officials, sports figures and civic leaders for "fanning the flames of racism" that might have led to the ambush of two of his deputies shot down while parked in police units last weekend. 
Both were critically wounded but are expected to recover. The gunman is still at large.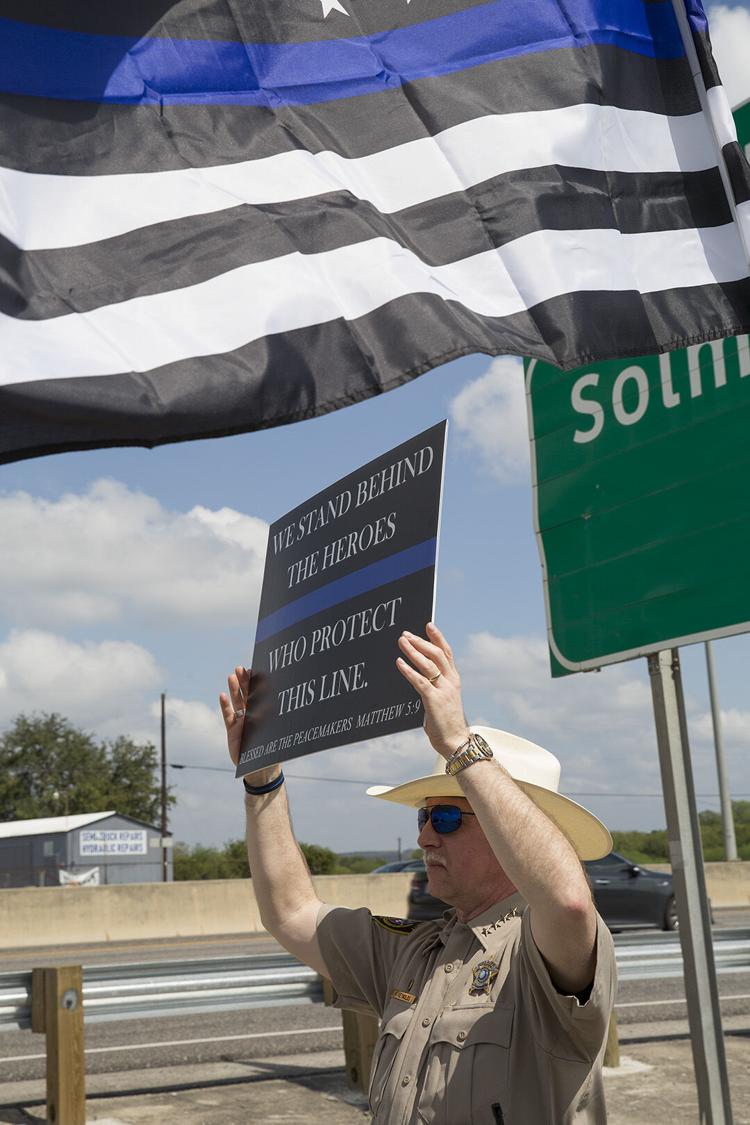 "The sheriff there referenced that cowardly act," he said. "The video that showed the one deputy helping the other and helping him with his wounds … it was reminiscent of Eddy," Reynolds said. 
"For some reason, we've already received two complaints that confused (his welcome) with the Trump Train — I was so disappointed for that," he added. "It's not about the private tiff — it's about Eddy."
Recovering with family
As of Tuesday, the Luna family's GoFundMe page had raised more than $47,000, bolstered by other fundraisers throughout the county held for whatever Eddy needs. His sister Krista Luna Flores has been family spokesperson — a role she said she was happy to relinquish on Tuesday.
"All of the support has been awesome and I'm very appreciative for all of it," Luna said. "I don't know who many even are but want to thank them for stepping up and doing what they did for me."
Six Luna family members are currently connected with the CCSO, the first being Eddy, a New Braunfels High School and U.S. Army veteran who joined in September 1991. 
Eddy's brother, Rene, also a CCSO warrants deputy, saved his life by fixing a tourniquet and comforting him until Air Life transported him to University Hospital. Rene previously served 20 years with NBPD; Krista is a clerk and brother Adam a corporal in transport; Eddy's sons also serve, Daniel as a patrol deputy and Oscar, a corrections officer. 
Reynolds joked that Luna's wife, Irene, will be Luna's boss until he rejoins other family members on the job.
"I'm not sure what kind of prosthetic they're going to get me," he said. "I've been told that some of them will give me 90% of the function I once had in my arm – so I'm looking forward to that. 
"I'm ready to get back out there — and I told the sheriff not to give my position away because as soon as I get the green light I'm coming back."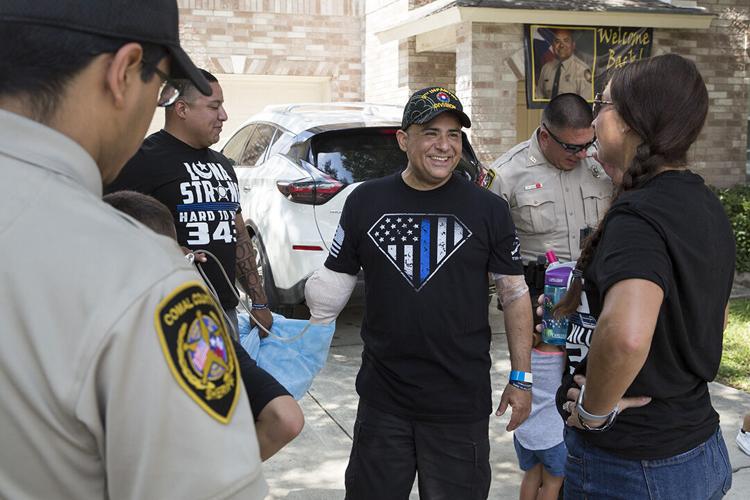 Reynolds said the 29-year veteran will be welcomed with open arms. Luna said he was also happy to be reunited with his dog, and continued to thank his family. He awoke from his nap to see his Mom bring him his best gift of the day.
"My mom is doing OK — she just brought me something that's old-school dish only Mom can make," he said, laughing.