About 200 people received their first dose of the Moderna COVID-19 vaccine on Thursday in New Braunfels, as county health officials tested out their mass vaccination plan for the first time.
Comal County and the city of New Braunfels coordinated in staging the vaccine clinic at New Braunfels Civic/Convention Center in hopes of testing the elements and details involved in a mass vaccination in preparation for when the county starts receiving higher numbers of the vaccines.
"We're testing our capability to give vaccines to large groups quickly," said Cheryl Fraser, Comal County public health director. "If we ran everybody through the public health department, we would have limited space, limited nurses, limited slots, but if we move into a facility like this where we can get nursing students to volunteer, we can do this on a larger scale. We're testing our capabilities today on how many vaccines we can give and how our flow worked and what we need to change to make this better."
Students from the Galen College of Nursing in San Antonio were on hand to help administer the immunizations.
Many of the residents receiving vaccinations on Thursday were in the Phase 1B category — people 65 and older and people 16 and older with at least one chronic medical condition that places them at an increased risk for severe illness from COVID-19, such as cancer, heart conditions, chronic kidney disease or obesity. Others were from the 1A category, which included health care workers.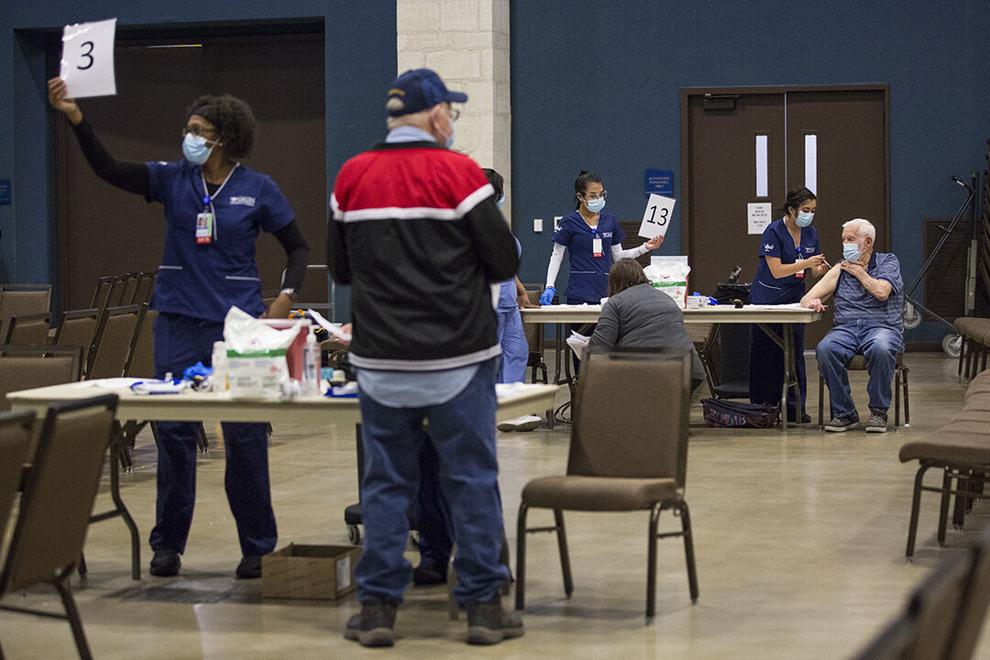 The vaccination clinic looked well organized, and people, like Patricia Larow from Spring Branch who attended the clinic agreed.
"We drove up here expecting to stand in line," Larow said. "And it was nothing. Very well organized."
Fred Barg of Canyon Lake told the nurse who administered his shot that it didn't hurt, and she "did an awesome job."
"I was very impressed," he said. "My wife had to do some extensive research to track you guys down, but once we got into the system, it's been really smooth. Everybody's been really helpful."
But supply continues to outstrip demand, causing frustration for many people just trying to get an appointment to get jabbed in the arm and for local health officials who are at the mercy of the state.
Janice Seiffert of Fischer was waiting in the observation room after receiving her vaccination. She said she called the health department 85 times to get a place for Thursday's clinic. That was after she made more than 400 other calls in an unsuccessful attempt to get a shot at the Alamodome vaccination hub.
"I finally got in," she said. "I was just determined until I could get an answer. Just keep trying."
Fraser said people calling the health department's number should get a recording stating whether there is vaccine ability. If the recording states there is no vaccine available, callers should clear the line for other callers as there is no waiting list to get the shots.
"We're working on ways to do this," she said. "But right now we're just telling people to watch our public health website. As soon as more vaccine becomes available, we'll put the information there and help people get registered. We'll set up a call center for those who don't have internet access that are in that 1B population. We want to make sure they get registered. We don't want to put it out there just to people who are more internet savvy can get ahead of people who also need the vaccine."
As of Tuesday, 1,426,859 doses have been administered statewide, with 1,241,950 people receiving one dose and 184,909 people — 0.6% of Texas' population — fully vaccinated. Both vaccines currently available — Pfizer and Moderna — require two doses. 
According to Department of State Health Services data, 4,969 people in Comal County have received one dose and 842 have received both doses.
Gov. Greg Abbott has promised to ramp up access, stating that he expected the reported number of vaccine doses administered each day to increase to at least 50,000 doses.
"We received 500 vaccines in this week, and we can't handle all of those in our clinic, so we moved 200 of those appointments out here to able to test this," Fraser said. "It's people who were already scheduled and we moved them out to the civic center. We've had a lot of people waiting for vaccines — health care workers — not everybody is in the 1B category, some were in 1A."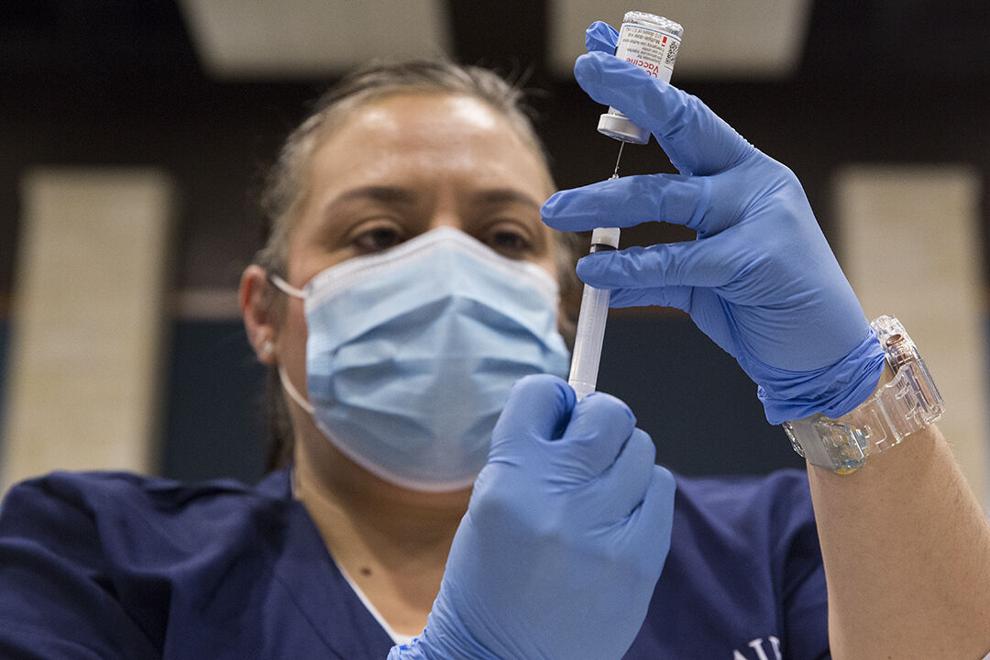 Fraser said patients at a local memory care facility received shots on Wednesday, which completed first-round distribution to long-term facilities, so county health officials are just now getting to recipients in the 1B category.
"We're hoping to get more vaccine," she said. "Our local officials, county and city, are working very hard with the state. That's another reason we're doing this, so we can show we can do this in hopes that they will send us more vaccine."
Some residents in Comal County nursing and long-term care facilities have begun to get vaccinated for the virus through a federal program with national pharmacies.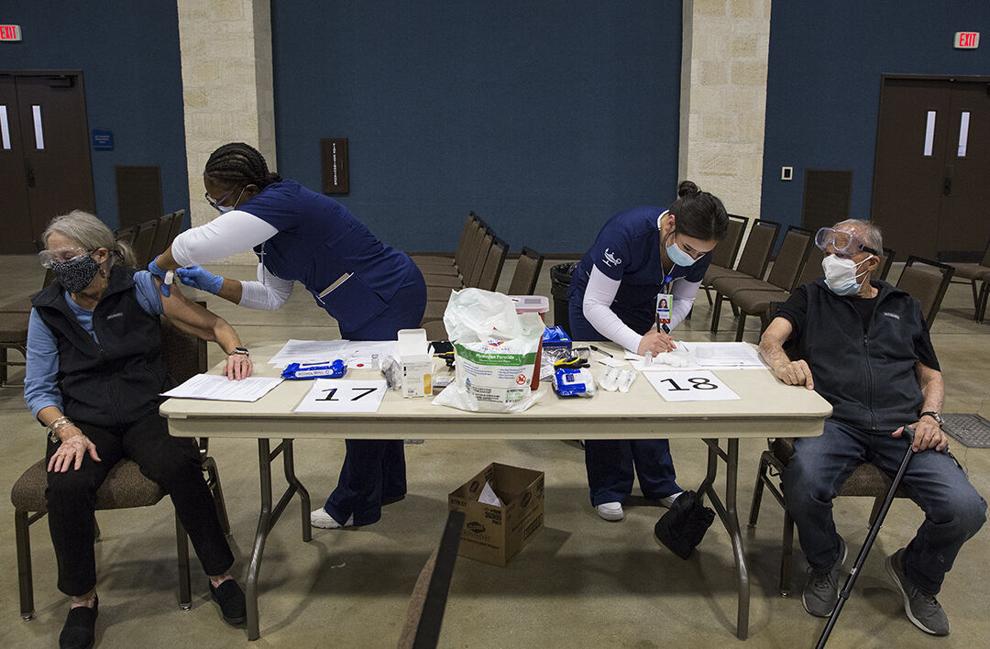 Latest numbers
Comal County's COVID-19 death toll increased to 228 on Thursday morning with the addition of three deaths along with 67 more reported cases of the virus.
The three newest deaths are all New Braunfels residents and include a woman in her 40 who died Jan. 17 at a local hospital, a man in his 70s who died on Jan. 9 and a woman in her 80s who died Jan. 12.
Of the 67 cases of the disease reported on Thursday morning, 24 are new cases, and 43 are backlogged cases. Eleven cases in Thursday morning's report are confirmed and 56 are probable. The county also added 85 recoveries from the virus, bringing that total to 6,635. 
Comal County now has 722 active cases, with 70 of those patients hospitalized.
Local hospitals reported caring for 84 COVID-19 patients on Thursday, with 25 of those in intensive care and 16 on ventilators. 
Fraser told county commissioners during their Thursday morning meeting that five patients were awaiting available beds in local hospital emergency departments.
Those hospitals are caring for a mix of local and patients from outside the area, and some local patients might be hospitalized elsewhere, public health officials have said.
The region's hospitalization percentage, which triggered stricter state restrictions that closed bars and reduced capacity at local businesses from 75% to 50%, stood at 24.12% for the 22-county region that includes Comal and Guadalupe counties.
The tighter restrictions are scheduled to remain in place, health officials have said, until the region's percentage of hospital beds taken by COVID patients falls below 15% for seven consecutive days.
Of the cases reported on Thursday, 40 are from New Braunfels, while 10 are from Bulverde/Spring Branch. Three cases each came from north and south of Canyon Lake. Nine cases were from South Comal County and Garden Ridge and two came from Fair Oaks.
Nine of the latest cases were under the age of 20, including one infant under 12 months old; 10 were people in their 20s, 24 were people in their 30s and 40s, 17 were people in their 50s and 60s, and seven were people older than 70.
The seven-day positivity rate for the more accurate molecular test was 30.39% on Wednesday, while the rate for the quicker antigen test was 6.25%.
"We only tested 12 individuals Tuesday and two of those were positive," Fraser told commissioners. "That's why the molecular appears to be super high. We're not doing a lot of testing, so you don't have a lot in that denominator."
Residents wishing to be tested for COVID-19 can call the county's dedicated hotline, 830-221-1120, between 8 a.m. and 5 p.m. Monday through Friday to schedule an appointment.
Testing is only done on Tuesday and Friday, and an appointment is required.
The Texas Tribune contributed to this story.