Gov. Greg Abbott on Friday pulled the reins on Texas' reopening, closing bars and river outfitters, reducing restaurant capacity from 75% down to 50%, and banning outdoor gatherings of more than 100 people. Over the weekend smaller crowds still managed to find a way to float New Braunfels' rivers, while business owners also struggled to stay afloat.
"Everybody is trying so hard to find the right answer," said Brandi Jewell, owner of Water 2 Wine. "It's really tough when you're on the end where your business could shut down, but you're also trying to keep customers happy and employees safe. Everyone's trying so hard to come up with an answer — I just don't know what it is."
Jewell's business is one that straddles the line between bar and retailer, with a wine tasting room for customers to sip and mingle as well as a selection of bottled wines and wine products. When bars were ordered closed on Friday, Jewell found herself once again scrambling to come up with a new way to do business.
"It's like a punch to the gut," she said. "This second time around is so hard. We didn't see it coming. We only had a couple of hours' notice to make a new plan."
For Water 2 Wine, that meant closing the doors to the public, offering curbside pick-up and providing outside space where customers can drink the bottle of wine they purchased.
"We have an amazing group of wine club members who have supported us through all this, so we are better off than some businesses that are strictly bars," Jewell said.
Uncertainty has been the biggest factor the pandemic has presented business owners, Josh Cunningham, owner of Kora Kora Coffee, said.
"Not knowing what will happen a few hours, days, weeks or months from now, or whether or not I will survive as a business has been a source of near constant stress," he said.
However, the latest round of mandates from the governor's office did not catch him by surprise.
"I suspected that the initial call to raise occupancy to 75% without giving a two-week incubation period from the madness of Memorial Day weekend was going to cause further problems, and it did," Cunningham said. "Several restaurants have already had to close for various amounts of time. I did not want to deal with that kind of fallout."
Cunningham closed the lobby of his business a few days before it was mandated earlier in the summer and has kept it closed since, meaning Kora Kora Coffee was unaffected by later mandates concerning masks and limiting capacity. All business is conducted at the drive-thru window with only one employee working from open to close to limit exposure, he said, and employees must wear masks when passing items to customers through the window.
"We sanitize every touched surface at the beginning of our shift and at the end along, with frequent hand washing," Cunningham said. "We try to use contactless payment whenever possible, but should cash payments or cards without chips, we wash or sanitize our hands immediately before touching anything else. One person, plus the extra sanitizing slows down our drive through a little, but it is worth it to know our customers and staff are protected as much as possible."
Just as the products they sell vary, so do the ways businesses are rearranging their interactions with customers.
"To say this has been a roller-coaster is the understatement of the year," said Stephanie Richardson, owner of Gourmage. "It has required a Herculean effort of blood, sweat and tears. But the choice to offer 'to-go only' for such a long time, and open back up very slowly, worked very well for Gourmage."
Even in the best of times, profit margins for those in the food and beverage industry are small, Richardson said.
"For Gourmage, 75% resulted in an effort that was a tiny bit worthwhile, mostly because we offer retail items which result in additional sales," she said. "At 50% it's really not going to be worthwhile to keep offering dine-in. But one advantage of being small is that we have a fantastic to-go option for all of our customers, and we frequently come in on closed days to fulfill orders. Pretty much every hour of every day, we're thinking about how else we can keep business moving forward."
Gourmage, like other New Braunfels businesses, requires masks to be worn by customers entering the building, and Richardson said she's encountered pushback from some in the community.
"I don't really care who shouts the loudest in the 'my side is right' argument," she said. "All I know is that I will do anything it takes to protect my customers, my staff, my business and me."
Enforcing the rule is similar to enforcing underage drinking laws in her establishment, Richardson explained.
"We serve wine and beer, so we're used to asking people to prove they're legal," she said. "Now the question is 'Do you have a mask?'"
Richardson said she's taking on the responsibility of enforcement.
"If someone is going to test the rules, I'd prefer to be the one to enforce them — after all, my employees didn't sign on for this," she said.
Each of the business owners expressed a desire for more patience and understanding from the public as the pandemic continues.
"The level of compassion and empathy seems to be much lower, not just in our community, but everywhere," Cunningham said. "We may all be in the same storm, but not in the same boat. I believe that the public and the government should do the best they can for the greatest number of people; to consider the most at risk when making decisions regarding themselves, their families, community and their businesses. It is not an easy call and no matter what, it seems impossible to come out unscathed, but we should all try to do the least harm."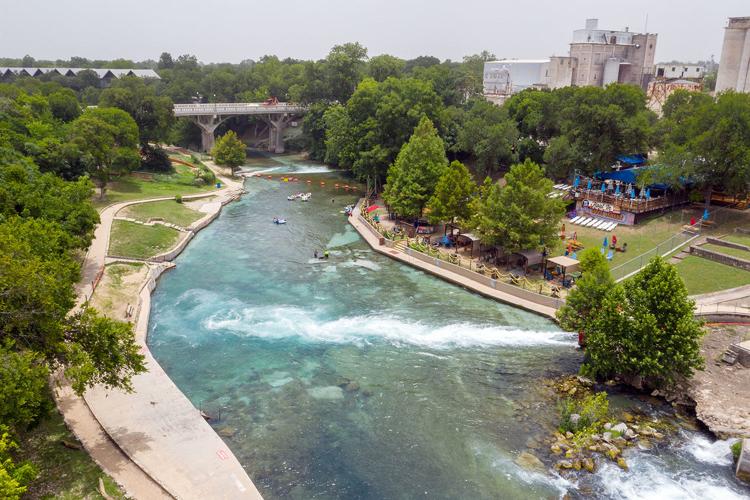 Though tube rental businesses and city parks accessing the Guadalupe and Comal rivers are closed, a few tubers found their way to the river through private access.
"NBPD had no issues with people not respecting the park closures," said David Ferguson, city and New Braunfels Police Department communications coordinator. "Officers were on patrol on the outer perimeter of those parks over the weekend and were able to answer many people's questions about the closure. Some may not have been happy with the decision to close the parks, but we did not have any issues in that regard over the weekend."