It's seemed like years since San Antonio Street's Comal River bridge closed to vehicular and foot traffic. But after less than a year, city residents will see it reopen next week.
The Texas Department of Transportation last week informed the city of New Braunfels that its $4.5 million renovation of the bridge is substantially completed, and the venue will reopen to traffic Wednesday, July 15, weather permitting.
"It is a red letter day for all of us to open this beautiful structure earlier than expected," Mayor Rusty Brockman said. "The bridge is the gateway into our beautiful and unique downtown, and will provide a safe and inviting passage for our citizens and visitors who want to travel around New Braunfels on foot."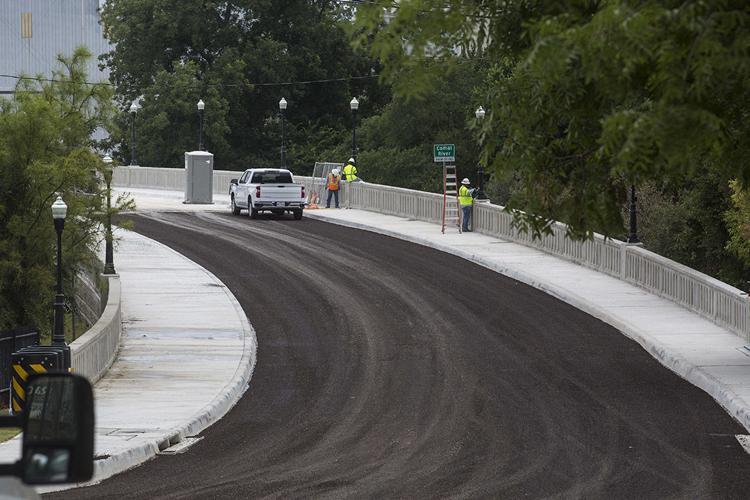 The bridge closed to vehicle traffic Sept. 3 and river traffic below on Sept. 23, and its reopening will reconnect both sides of the city. Since then San Antonio Street traffic, 9,500 vehicles daily in both directions, was detoured onto Comal, Union and Elizabeth avenues, Torrey and Garden streets and Hinman Island and Landa Park drives. 
In May, TxDOT permitted the city to remove river buoys above and below the bridge, allowing the city to reopen river traffic under the bridge before Memorial Day. Since then, Greg Malatek, city public works director, said the city and TxDOT discussed the possibility of completely opening the venue for vehicle and foot traffic before its projected finish early this fall.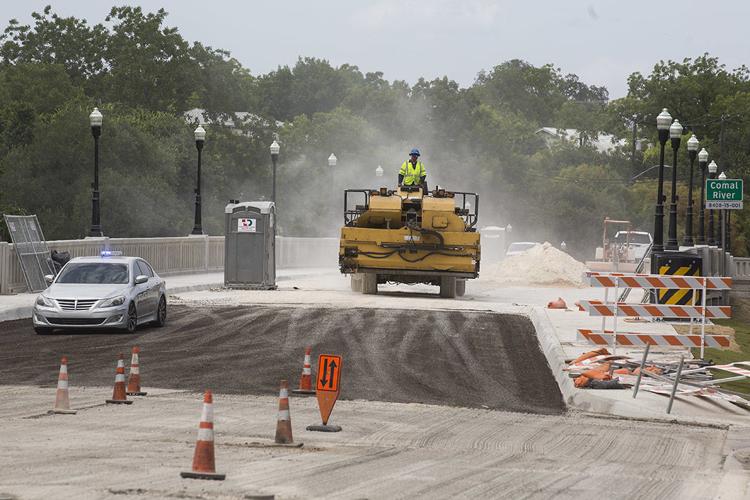 Malatek said that became possible when Capital Excavation, in charge of the project, made several suggestions, including joining the city to pave and stripe San Antonio Street from Main Plaza to Union Avenue. 
"Basically the work included the city and TxDOT, which paved the bridge and approaches extending from the bridge," he said. "That 
made the (earlier) July 15 finish date possible, as long as weather cooperated."
The work
Last September, Capital launched the project with a section-by-section demolition that stripped the bridge, constructed in 1923, of everything but pillars and arches. It has now been widened to 48 feet, with 15-foot vehicle lanes and 8-foot-wide sidewalks for pedestrians on each side.
Five 70-foot arch spans and two 30-foot girder spans remain for aesthetics purposes, but the widened bridge was reinforced to support weights of emergency vehicles and trucks and fitted with crash-proof bridge railings.
"The wider lanes for vehicular traffic will certainly give drivers more confidence as they make their way throughout town," Brockman said, adding that the project exemplified the partnerships between the city, the Downtown Association and TxDOT officials.
By June, all that remained to finish were railings over the three spans near the Schlitterbahn side of the bridge, and installations of light fixtures matching those on the original bridge.
"Although the bridge will be open to traffic, Capital Excavation does still have some clean up items to complete on the project, although that final work should not affect vehicle or pedestrian traffic," said David Ferguson, city communications coordinator. 
"Initially, the bridge was scheduled to open by the end of 2020, but with construction innovations learned from other historical structures, Capital Excavation and TxDOT were able to substantially reduce the completion date on this project."
Ferguson said details for a potential dedication ceremony are pending. 
"We are happy to complete this project ahead of schedule and thank the city of New Braunfels for their cooperation," said Will Lockett, TxDOT area engineer.
Malatek said residents will be able to feel the quality of the finished product.
"The first time they drive over it or walk over it, it will feel like there's so much more room than there was before," he said. "I can't give enough kudos to TxDOT and Capital Excavation. It took a lot of expertise to take down a historic structure, and keep many of those aspects and not have anything damaged or go wrong.
"This bridge turned out really well — and I'm really impressed with the (shorter) time (in which) they finished it while getting everything right."
For more on the project, visit www.nbtexas.org/bridge.