New Braunfels has gone to the birds — or rather, the birds have come to New Braunfels.
The acorn woodpecker, a black and white bird with a red "hat," is commonly found on the west coast such as in California and in southwestern states like Arizona and New Mexico, but on Tuesday birdwatchers were treated to a viewing of them at Camp Huaco Springs.
Nature photographer and retired New Braunfels local Ed Means saw the birds Tuesday morning and said it is a mystery as to why they ended up in New Braunfels.
"There's lots of times birds will end up in an area where they're just far away from home," Means said. "Sometimes people don't know why. Sometimes the wind will blow in and they stay. Just in any part of the country you go to, you'll find birds that show up and they'll be the talk of the town or the birding society until they leave."
These two Winter Texans may be here to stay — at least for a while.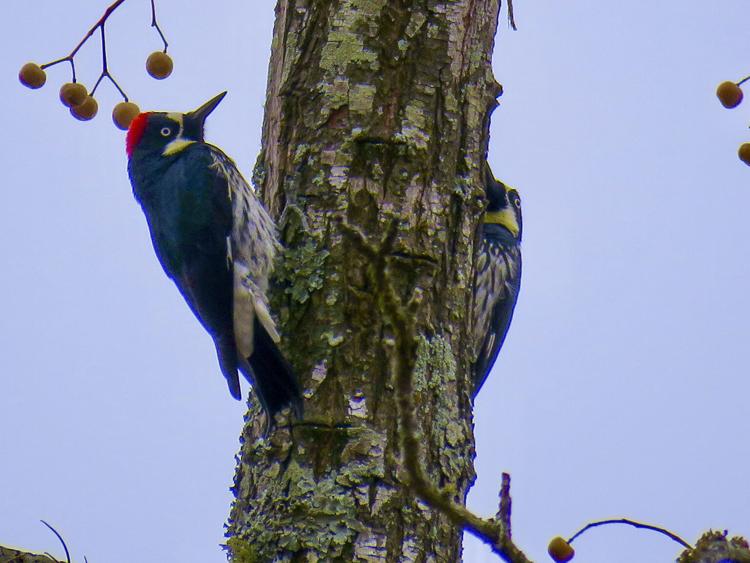 "I'm guessing they're a pair although I don't know, but they will probably stay there for the winter because they gathered some acorns," Means said. "They live way down south and basically in New Mexico and Azrizona and all the way south to Mexico, that's where their habitat is."
The acorn woodpeckers live in groups called clans which store acorns for food in the winter, according to Audubon.org. They drill small holes into trees to store acorns.
Couple Nilda Leon and Jorge Romeu live in New Braunfels and enjoy bird watching in the Hill Country and elsewhere. 
Leon, who is from Connecticut, has bird watched for about 25 years and gasped when she saw the acorn woodpeckers through her binoculars.
"Oh, how beautiful," she said, watching. "What a treat."
Leon, an internist, belongs to a bird and critter photography club in her neighborhood through the NextDoor app. Means moderates the club via the app and told locals about the birds.
"Somebody posted it and she showed me so I was like 'Let's go!'" Romeu said.
She said she enjoys watching how different birds behave and how they survive.
"[I like bird watching for all] the different types of birds with their unique behavior," Leon said. "If you set out some bird feeders you'll get some right in your backyard, Sometimes you don't have to go far to see them. It's peaceful, it took me a little while to get into it."
Romeu said he and Leon first started watching birds in their backyard. They had a whole family of mockingbirds and watched the babies in their backyard last year in their new house of two years.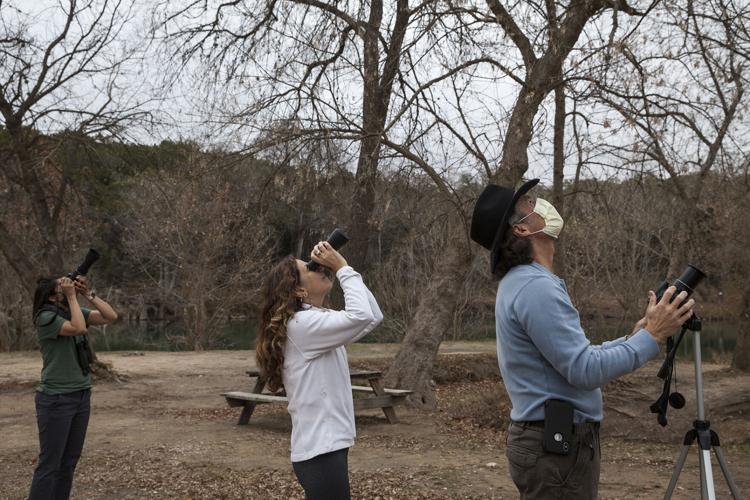 "We like to think they recognize us," Romeu said. "They know you're just going to put food. Sometimes they start chirping if you don't hurry up, they chirp and it's like they're saying, 'Hurry up and come feed us.'"
As scientists and nature enthusiasts who hike and travel, birdwatching is a perfect hobby for them, he said. 
Romeu said his favorite bird sighting was seeing a bald eagle.
"My ultimate [bird], and I only had seen him once, it was when I was driving in Louisiana and I saw a bald eagle. It was beautiful. It was like the coolest thing," Romeu said. "They're beautiful birds, kind of mean because they're predators." 
Romeu said birdwatching is a fun and calm activity to do while out and about.
"It's peaceful for us, our kids joke and they say it's an 'old people hobby," Romeu laughed. "It's no different than a fish tank. You just get mesmerized by all the movement in the water. It's just peaceful and quiet for us. And observing the behavior is pretty cool."
Romeu and Leon said they hope for a government to tackle climate change, which has disastrous effects including displacing animals and ruining their habitats.  
"It's unfortunate it is real and it's amazing that some people think it isn't," Romeu said.