For generations, residents and tourists have enjoyed dining on the unique hickory-smoked meats offered by New Braunfels Smokehouse.  
Once a rural "ice plant," where local farmers would bring meats to be stored, the business evolved into a successful mail-order business and local dining spot.
But visitors to the New Braunfels Smokehouse restaurant on Business I-35 this week found a message on the door.
"With a heavy heart, we will be closing our Restaurant on August 7th, due to the unsustainable economic hit caused by the ongoing pandemic. We want to thank the many regulars, friends, and employees we have met over the past 75 years."
Patrons enjoying lunch at the restaurant expressed sadness over the closure.
Laura Lamb of New Braunfels was picking up an order for her office mates.
"We're coming to get our last fix," she said. "We're upset and devastated. The business has been around a long time, and this is a sad situation."
Holly Starcich was looking forward to her order of chicken dumplings.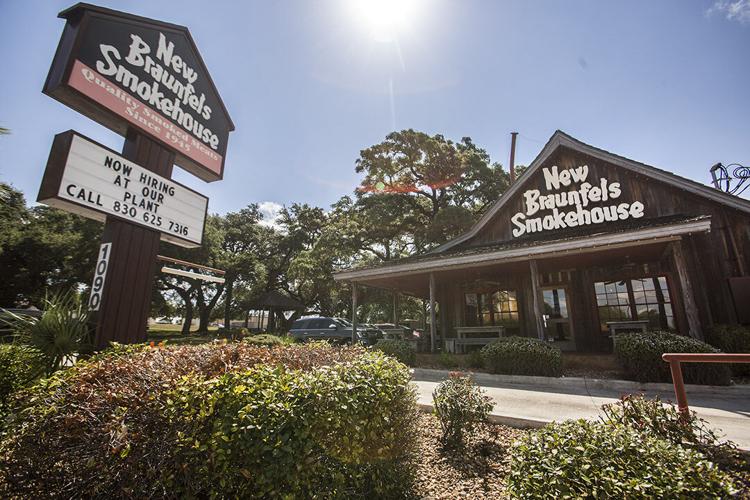 "It's heartbreaking," Starcich said. "They have great food, and it's sad to see. I remember coming in when I was younger."
The purveyor of smoked turkey, smoked brisket, sausages, hams and other smoked meats opened in 1945, the brainchild of Russell Kemble "Kim" Dunbar and his wife Arabel. They recognized the popularity of Smokemaster Benno Schuennemann's hickory-smoked meats, and soon orders were rolling in from across Texas and the rest of the nation.
In 1952, the Dunbars opened a "Tastin' Room" on Highway 81 in New Braunfels with the intention of attracting people traveling between San Antonio and Austin, according to the company's website.
The architect, inspired by old Smoky Mountain smokehouses, designed a small building with bent pipe chimneys and walls that leaned. They completed the country look of the store by locating it in a corn patch complete with cut-out pigs, cows, and a giant mountain man named Zeke.
In 1967, with the business growing, the original building was picked up and moved across the highway to its present location.
The latest addition to the restaurant was made in 1986 with the opening of "The Yard," an outdoor shaded area built to accommodate the overflow of summertime diners.
The renovated, updated deli-style restaurant opened in 2008.
But the closure of the restaurant does not mark the end of the business.
The smokehouse's 60,000-square-foot production facility near downtown New Braunfels will remain in operation.
Patrons can still get products online by visiting the company's website or by stopping at 441 N. Guenther Ave.
The business serves as the supplier of smoked jerky products to Buc-ee's and acting as a supplier to Omaha Steaks International Inc. 
New Braunfels Smokehouse co-owners Hale Snyder and Elizabeth Snyder Hale represent the third generation of the family to run the business.
Company officials did not return requests for comment for this story.